Real-time Accounting Data from your SMB Customers
The Railz® Accounting Data as a Service API provides a single connection to all major accounting service providers, normalising the data and adds analytics and other metrics to enable enhanced decision making.
Data Access Challenges:
SLOW – weeks/months to manually receive and manage financial data from SMB customers.
RISKY – manual data collection increases the risk of omissions, errors and loss – accidentally and/or intentionally!
COSTLY – both internal builds as well as outsourced ERP solutions are extremely costly and integration takes time.
SOLUTION:
Railz provides quick, cost-effective and direct access to most of the key SMB Accounting systems (eg. Xero, Quickbooks, MYOB, Sage, etc) via a single API –
The only solution in the market that normalises all of the disparate accounting data,
Map all chart of accounts and create a universal data format,
Provides clean, structured raw data without manual intervention,
Allows users to conduct risk assessment, as well as financial health, analysis accurately and as often as needed,
Provides an "out of the box" value-added dashboard to assess risk and fraud metrics, as well as data analytics and insights, and
Implemented in a mater of days, rather than weeks or months.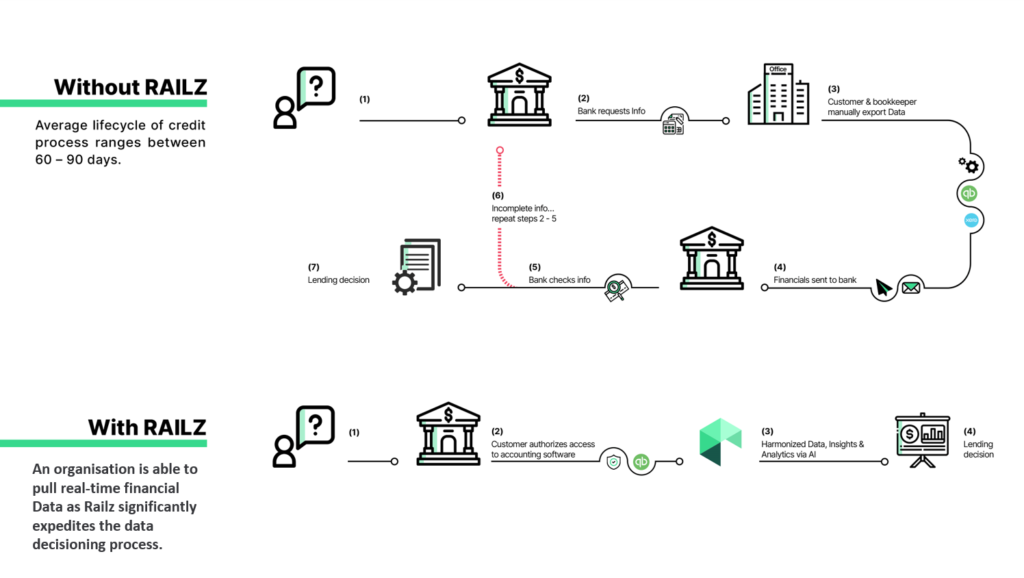 Railz is truely a Digital Business Lending and Advisor tool that will assist in the assessment and viability of existing and potential new SMB customers for a range of business services from lending, credit and risk assessment, to financial viability and longevity for activities such M&A. Further details on the Railz API® and how it works, can be found by following this link – Railz API®.
For more information regarding the Railz solution and how we can help with it's implementation, please email us at info@finssglobal.com and put "Railz Accounting Data as a Service info" in the Subject line.
Powered by